The Grange Excavation Project (AGO, Toronto)
Ongoing excavation of concealed artifacts in the foundations of Toronto's oldest brick home (1817). The Grange, a National Historic Site of Canada, is now home to the Art Gallery of Ontario (AGO). It was originally the family home of D'Arcy Boulton and Sarah Anne (née Robinson) and later his son William Henry and Harriette (née Dixon).
When some of the papers of the former butler Henry Whyte (1793-1880) were donated to the Art Gallery of Ontario in June 2007, it was determined that this legacy contained crude, hand-drawn map sketches of the house and the surroundings. They show a number of small crosses, dated over several decades. ASO was retained to identify and investigate those sites that had not been obliterated by recent construction. Careful exposure of spaces beneath floorboards, behind wall mouldings and under the brick floor indeed turned up artifacts. From some oblique notes among Whyte's papers, ASO scientist Dr. Chantal Lee was able to reconstruct that the likely creator of these artifacts was "the seventeen year old Irish spinster Mary [who] was taken on probation [in 1828] as third maid" (IV/44.7). Whyte observed her conceal a small object under a stable floorboard, which he inspected and determined to be a "waxen globule" (V/12.14). She appears to have continued her practice of encasing small objects in beeswax and concealing them, which Whyte observed over decades; evocatively, he named her Amber (VI/3.17).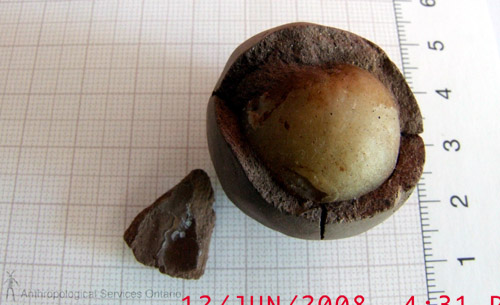 At the request of the Art Gallery of Ontario, ASO has now partially suspended excavation activities to allow guided tours of the excavation site. The site can be visited during normal opening hours of the AGO, please sign up in the Main Hall of The Grange. Our assessment activities continue outside the scheduled tours. We will be happy to update you on our findings.
---
If you have recently visited the excavation, please note that we have made an additional aspect to the work available without which its understanding would be incomplete. ... (click to read on).
---
We welcome discussion on the work and its context. If you would like share your thoughts, please ...

---